Sponsor Us
As you have hopefully seen from our website, Soccerin Schools is a new exciting concept in football coaching. We always use enthusiastic coaches, the latest equipment and special coaching techniques to make the sessions as enjoyable for the children as possible. Its the perfect place for them to make new friends and have lots of fun.
Why advertise with Soccerin Schools???
We pride ourselves on being extremely organised and professional in everything we do. All the coaches are extremely helpful and friendly and we always try give top quality customer service.
We advertise our products and services to thousands of children and more importantly, parents in the Berkshire and Hampshire area. We will regularly send out booking forms, leaflets and flyers advertising our upcoming sessions and events.
We also have the luxury of our business being linked to local community work. We help keep children fit and healthy, provide kids with a hobby whilst trying to produce athletes for the future.
What we offer you...
We feel that if you advertise with us, you will be getting extremely good value for money when you consider the quality and professionalism of our service as well as the potential market on offer. In our advertising package, we will offer the following:
• Your logo will be placed on our coaching kit. We will have plenty of photo shoots and pictures of our kit will be used on other advertising material.
• Name and logo placed on all our leaflets, flyers, posters and booking forms
• Name, logo and details of your business placed on the Soccerin Schools website along with a link to your website. As you can see our website is extremely child friendly with the games and video's we offer and we will always encourage parents to use our website for information and bookings.
How do you sponsor us???
As you can see, our sponsorship package has alot to offer. If you are interested in sponsoring us then please contact us via e-mail, telephone or you can contact us directly below.
Many Thanks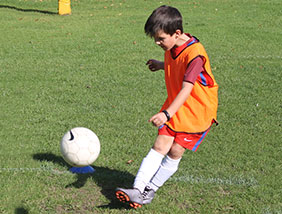 Book Now