Terms & Conditions
Behaviour and Attitude
• Soccerin Schools reserves the right to suspend any child from a course for constant unacceptable behaviour
• They will receive a warning, of which parents will be notified
• If after this warning their poor behaviour continues, the parents will again be notified and a letter will be sent home explaining the reason why they have been suspended from the course
• Discussion will need to take place before the child can be reinstated
Bookings and Refunds
• Bookings will only be confirmed on receipt of full payment
• Soccerin Schools cannot guarantee your child a place on a course, so book early to avoid disappointment
• Any child who is unsuccessful in getting a space on the course will be placed on a waiting list
• Refunds will only be given if a cancellation is made 7 days prior to the course start date
• NO REFUNDS will be given once the course has started, unless your child is suspended by the soccer school
• Please note: A £5 administration fee will be charged for any cancellation
Property
Children must bring with them to every session:
• All weather kit, proper footwear (i.e. football boots, trainers, NOT PLIMSOLES), shin Pads, a drink (non fizzy), packed lunch (if session lasts all day), any medication they may need, sun cream if it's a hot day (coaches are not permitted to apply suncream).
Please note: Children who do not bring correct footwear or shin pads will not be allowed to take part in the session and the session fees are NOT refunded.
• All items they bring should be named
• Soccerin Schools will not take responsibility for any items of lost property
The Coaches
• All our coaches hold an FA coaching certificate
• They are all CRB checked, emergency first aid trained and have attended a child protection workshop
• We are covered by full Public Employee Liability Insurance
Weather affected sessions
• Sometimes, due to adverse weather conditions, sessions may be cancelled, but we will always do our utmost to keep sessions running
• In adverse weather conditions, some of our schools are able to offer us indoor facilities, like a hall or gym, so please aware, in some circumstances, we may run the sessions inside
• If a session is cancelled, we will try and arrange an extra session to compensate, which may be at a different time or day
• If we cannot re-arrange a session, you will receive a credit towards your next terms fees
Injuries and Medical Conditions
• Parents who send their children along to our sessions with injuries, do so at their own risk
• The coaches are not trained to diagnose injuries, so advise you to seek professional medical advice on anything that gives you cause for concern
• The coach may need to administer first aid to any child who receives an injury during the session. They my also need to perform/administer emergency treatment in extreme cases.
• If your child is no longer fit/well enough to continue the session, you will be called and we would appreciate that you collect them as soon as possible
• Please can parents make us fully aware of any medical conditions your child may have
Parents
• We expect all parents who are watching the sessions, to act in a calm and controlled way at all times
• We would appreciate that you don't shout instructions at your child from the side lines as this causes them to get confused. Let the coach's coach!
• At no time should a parent come onto the playing area, unless they are asked by one of the coaches. Parents are more than welcome to come along and watch any session, but we ask that you do so from a distance
• At no time should a parent tell off another person's child. If you see something untoward, then please speak to one of the coaches and it will be dealt with accordingly
• We ask that all parents respect our coaching methods. This is children's football and we will never put any pressure on the children to win. Our main aim is for them to go away having enjoyed the session and improved their skills, so we ask that parents support this philosophy in a positive way
• Aggression towards a coach or any other person will not be tolerated
• Should you ever have any questions, you are welcome to approach the coach after the session
Child Protection
• Photos may be taken during the sessions for promotion and advertising. Should you not wish your child to appear in any such material, then you must make it clear by filling out the disclaimer on the booking form and returning it to us
• We cannot take responsibility for any child who is dropped off early or picked up later than the times stated on the booking form
• Please drop your child of no earlier than 10 minutes before the scheduled start time and be there promptly at finishing time to pick them up
• If you are attending an afterschool club, then your children will be supervised by someone until the coach meets them and takes them to the training pitch
• Please note: There are some exceptions to this last point. You will be informed, should this be the case
Photos Policy
At any of our Soccerin Schools sessions we permit photos to be taken of your child.

We understand sometimes other children are in the same photo.
If this is the case, we must make it clear these cannot be published on the internet or any social media sites.
It you have a photo you wish to use for social media or online you must have permission from the children parents.

If for any reason you feel our policy doesn't meet your requirements as a parent or guardian, please let us know and we will make special arrangements to suit your needs.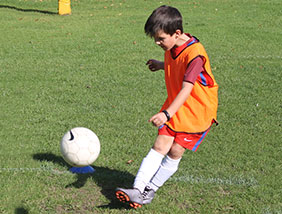 Book Now