Who's Who
At Soccerin Schools we pride ourselves on having enthusiastic and child-friendly coaches. Below you are able to find a little bit about us and where you will expect to see us coaching...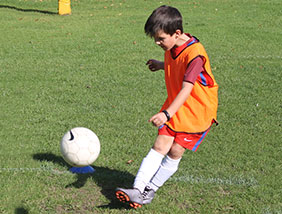 Book Now
Jack Dillon
Sport is such a big part of my life. In fact it is all I do and I have developed such a passion for making children as active as possible and to give them confidence to play sport. I set up my own coaching company over 10 years ago, coming straight out of college knowing that this was the job for me and it has grown so much since. Starting out as Jack Dillon Soccer School and only working a couple of hours a day, the business has evolved into Soccerin Schools, then around 4 years ago I created Just Play Sports.
My base is in Walter Infants School and St. Pauls Junior School in Wokingham, which I absolutely love. I'm the lucky one who gets to meet the children when they come through the door at 4 years old, watch them grow and develop as sportsmen and women and then wave them out the door at the grand age of 11 years old. It truly is a pleasure.
I have gained a wealth of experience working with different coaches and teachers, learning techniques and ways of passing my knowledge and enthusiasm to the children. During college I gained vital experience with a company called New Era Soccer, then further down the line I was able to gain experience with Ex Chelsea professional Tore Andre Flo and his soccer school, along with my still growing experience they helped develop me into the coach I am today.
As I mentioned sport is my life and when I am not working you will find me on the golf course, playing tennis, potting snooker balls or in Farnham playing for my football team. I have played Semi Professional football for over 10 years, 7 of which were with Farnham FC. This is not something I will be able to do forever but I will do it as long as I love playing and don't ache too much in the mornings!
I hope you all enjoy my outlook on sport!
As well as being FA qualified, Jack has done qualifications on fitness and conditioning in football, developing PE in primary schools and undertaken his safeguarding children level 3 certificate.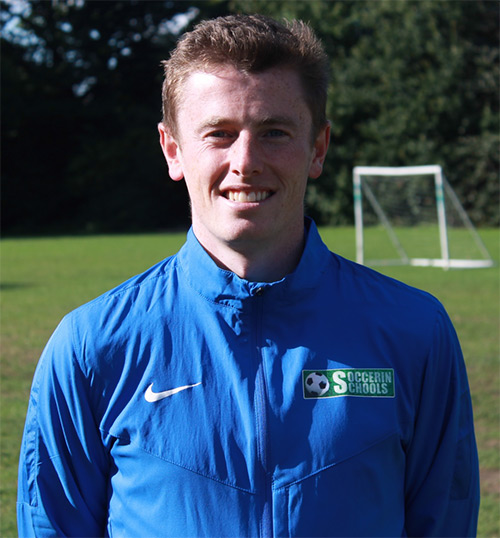 Jake Meade
I have been working as a sports coach for 6 years now and have developed strong relationships with parents, players and schools throughout this time. Being a coach for this amount of time has allowed me to gain eperience in delivering coaching sessions as well as building positive relations with the children. As well as experience, I feel my enthusiasm for coaching and sport helps when delivering sessions. I have gained some of my experience by coaching in Norway and Sweden respectively and in coaching young players. It was an experience I loved and feel it developed me into a better coach. In my time as a coach I have run sessions for a range of ages, from as young as 2 all the way up to 14 year olds.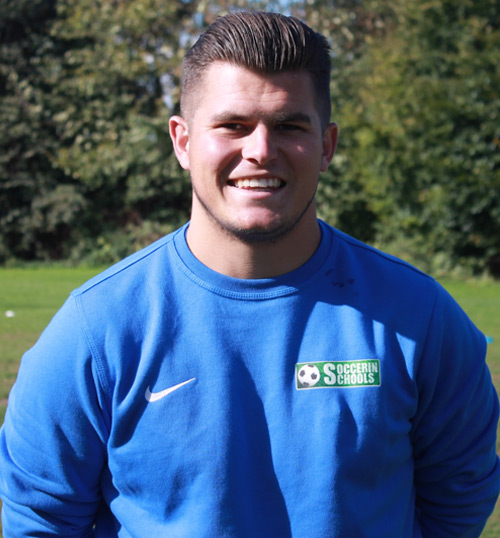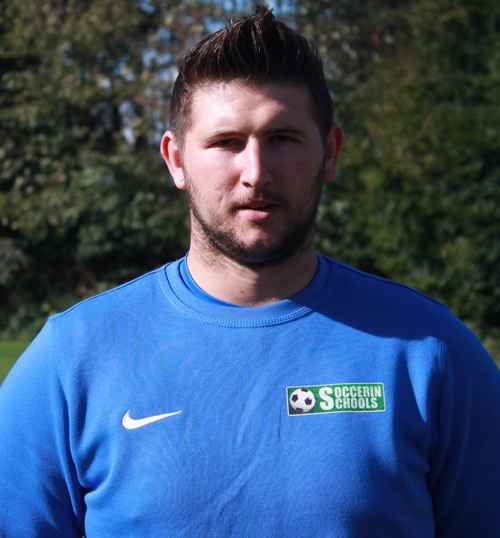 Keelan Hamilton
I started coaching in 2012 part time with Soccerin Schools, I decided to become a coach as I have such a passion for football and sport. I have played for various teams and in various sports but football has always been my favourite. Since 2015 I became a full time coach for Soccerin Schools and have worked in Hayes. This year in Hayes has helped my to progress as a coach as well as learning about creating a pressure free environment where children can feel relaxed and enjoy sport at the same time.
Roger Goff
Profile coming soon...
KIAH OWEN
Coaching is all about creating a fun, safe and learning environment for the children. This is why, since becoming a coach in April 2018, I have strived to develop these factors and help children continue to be active and share the love I have for sport. Alongside coaching at Soccerin Schools, I assist with coaching an U9's football team, play football for both the Binfield Ladies and the U18's team, and referee any football games possible. Through these experiences, I have come into contact with a huge range of people who have displayed great attitudes and techniques that I have been able to take on board. At Soccerin Schools not only can children develop their abilities, but they can learn to reach their full potential with us coaches guiding them and believing in them every step of the way!
Josh McBain
I started coaching with Jack back in the summer of 2016 for my volunteering section of my Silver Duke of Edinburgh. I had known Jack from when I was at St Pauls and in Year 6 took part in his lunch time football clubs and I know how much fun the clubs that Jack run are. I have loved playing sport all my life and have played for Wokingham and Emmbrook Football Club for Seven years and currently play for their Under 18 side. I have also played rugby for my secondary school, Emmbrook, and enjoyed every minute of it. It is this love, passion and enthusiasm for sport that I love passing on to the kids that I work with. I am currently studying for my A-Levels so I do some part time work for Jack after school at St Pauls and help out on holiday camps.
RHYS WILLIAMS
I started coaching with Soccerin Schools in January 2018, after having enjoyed coaching during my work experience with Jack in the previous academic year whilst at my old school Ranelagh. I have always had a huge love and passion for football and sport since a young age and I still do now. I have played for Reading FC's Advanced and Elite squads to currently playing for Maidenhead United Academy and Youth Team as well as Wokingham & Emmbrook Sumas U18s.

I have known Jack for a long time from when he used to take the sessions at New Era Soccer when I was three, as well as Touré Andre Flow Academy later on and lunch time sessions with Soccerin Schools at St Paul's. Since I have experienced these sessions first hand , I have a good understanding of how they are structured and how they are made fun for all children, which has benefited me in my coaching. I have completed my FA Level 1 Coaching in Football and Level 1 Sports Volunteering as well about to start my FA Level 2 Coaching in Football, later this year. These qualifications has given me experience for coaching children in different sports.

I am currently working part time at Soccerin Schools and my predominant location is in the Wokingham area. I am currently studying my BTEC Level 3 Extended Diploma in Sport qualification at BCA in Maidenhead.