Soccerin Schools
We would like to welcome you to Soccerin Schools. Jack Dillon and his coaching team aim to make a football coaching experience that kids will love. The team have combined their years of football knowledge, experience and tremendous enthusiasm for the game to create football sessions that will not only improve children's ball skills, but will put a smile on their face and have them asking for more!
Our sessions are open to beginners right up to the more advanced players. We offer a wide range of afterschool and lunchtime clubs, holiday camps and even pre-school soccer sessions for children as young as three.
As a soccer school, we are determined to get children's hunger and desire to play the game as high as ever and feel that there is just to much pressure being put on the to 'win at all costs' rather than just be able to play with a smile on their face.
We pride ourselves on being extremely organised and professional, where a friendly face will greet every child, parent and teacher. The coaches will develop good relationships with all of the children, making it the perfect environment for them to play!
Soccerin Schools has a sister company called 'Just Play Sports'. Over the last few years some of our coaches have been studying the development of children in sports other then football. It has helped in inspiring them to create new games in other areas including: Rugby, Basketball and Dodgeball to name a few.
All members of the company hold the same philosophy of getting children enjoying and playing as much sport as possible, as well as first aid certificates, coaching qualifications, DBS and prior sporting peformance. So if you think this is something that interests you and your child, please click on the link below.
http://www.justplaysports.co.uk/
Please take a look round our website to find out more information, but if you have any further questions, please don't hesitate to contact us.
Many Thanks
Jack Dillon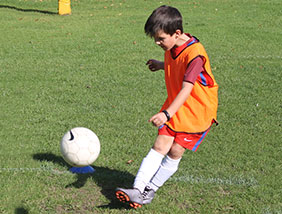 Book Now