About Us
Soccerin Schools was formed by Jack Dillon to offer young children a fun place to improve football skills. We work with children everyday, so are hugely experienced and qualified to give them a great service. Our sessions are based around fun, where winning and scores aren't important to us and we will always support children to think the same. We encourage them to play without fear and where no pressure will be put on them by the coaches, parents or teammates. Our aim is to give them the confidence to try new things on the pitch and work out problems for themselves. If they don't succeed the first time, we will encourage them to try again! We have found that this style will have the kids coming back time and time again and it gets their enthusiasm for the game at an all time high.
We feel there are far to many coaching organisation and academies out there who are destroying children's confidence and belief with false promises. We are there for the children who just want to play!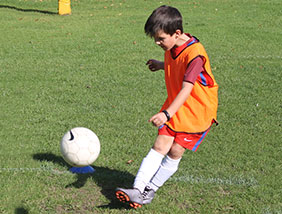 Book Now
Primary School Soccer Clubs
All our school football clubs are designed to get your children hooked on football! At an Infant Club, your child will be kept amused throughout with specially designed fun games which will improve dribbling, passing and shooting skills. Then we move on to the part they love the most - matches! They will be allowed to play, express and enjoy themselves in a pressure free environment, where confidence and belief in their own sporting ability are both increased.
Once the children get older, we have developed more challenging games for them, which will still retain their enjoyment levels but at the same time show trickier aspects of the game. Dribbling, shooting and passing will all be focused on, as well as small amounts of heading, volleying and lots more in mini matches.
We run numerous clubs in Primary Schools. Mainly afterschool clubs but we also offer lunchtime clubs to keep your child entertained during the school day!
Click here to book onto one of our Primary School Clubs…<
3 - 4 Year Old Soccer Clubs
Our Pre School Clubs are specially designed for children aged 3 and 4 years old. We have developed games and sessions that children can relate to keeping them engaged and excited throughout. We like to develop confidence and encourage your children to express themselves in a pressure free environment. At Soccerin Schools we are all about fun. Seeing children leave the session with a big smile on there whilst looking down at there football stamp is why we do what we do! Courses will traditionally last for around 12 weeks but we always offer free taster sessions if it's your first time booking with us.
Click here to book onto one of our Pre School Clubs...
Holiday Funweeks
We have found our Holiday Funweeks to prove most popular over the last few years. We regularly hold camps at St Pauls Junior School in Wokingham, just like all our clubs it is open to all standards of player. Soccerin Schools offer 5 hour days in which children come along from 10am - 3pm. This is the main core of the day. However we also an early start option from 8:30 and late stay option till 5:30. All our fun weeks are carefully planned and organised to ensure we provide the children with as many fun activities as possible! The children will get a choice of football or Multi Skills. Once they head off into groups, they will play a variety of games to test there skills. As I have mentioned many times, it is all about fun! During the warmer periods of the year, we organise slip and slide games which the children (and coaches) love!
Please don't hesitate to book on to the Camps as they are very popular!
Birthday Parties
Soccerin Schools offer the perfect way for a football mad child to spend their birthday! We run birthday parties for children turning 3, right up to 11 year olds and are run in a venue of your choice. We are able to book the hall for at either the FBC Centre in Finchampstead or Walter Infant School in Wokingham. We will coach at the party for a minimum of one hour but can also run games for 90 mins. We will run a mix of fun games, competitions and mini matches all to suit the age group along with the birthday boy or girl. We will cater to your needs!
We also offer parties where we can bring along our Zorbs! They are massive inflatable bubbles that the children can get into and bounce around in! Great fun!
For more information or price lists for a Soccerin Schools birthday party, then please contact us using the form at the bottom of this page...
PE Sessions
Soccerin Schools has a sister company called 'Just Play Sports'. Over the last few years some of our coaches have been studying the development of children in sports other then football. It has helped in inspiring them to create new games in other areas including: Rugby, Basketball, Cricket and Dodgeball to name a few.
All members of the company hold the same philosophy of getting children enjoying and playing as much sport as possible, as well as first aid certificates, coaching qualifications, DBS and prior sporting peformance. So if you think this is something that interests you and your child, please click on the link below.
Just Play Sports offer innovative PE sessions which are specially designed for each year group. Younger children are encouraged to use their imagination and solve problems and as the children get older they will be shown modern and advanced practices.
If your school would be interested in having PE lessons run by Soccerin Schools or would like more information, then please contact us using the form below...